Oriental whole baked snapper with ginger & chilli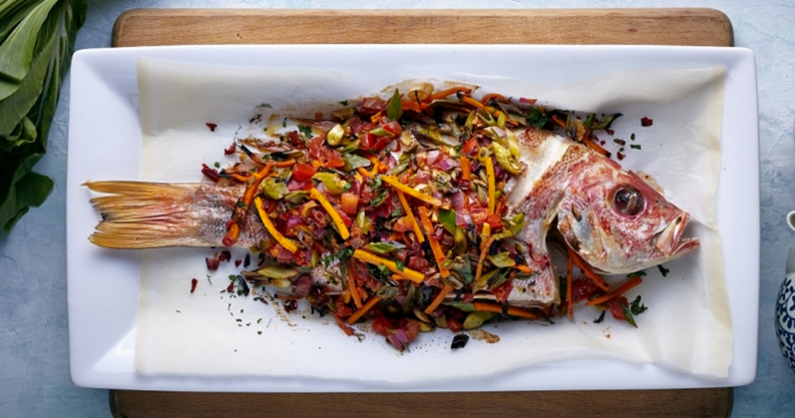 Bunda Ginga supply our raw ginger product to Gourmet Garden to use in their ginger chips and stir-in ginger paste products. Here are some great recipes featuring these products shared by Gourmet Garden and as appeared originally here. 
Ingredients
850- 1000 gram whole snapper, or use fillets
1 teaspoon vegetable oil or butter
1 large red onion, finely chopped
1 tomato, finely chopped
1 teaspoon Lightly Dried Ginger
1 teaspoon Garlic Stir-In Paste
1/2 teaspoon Lightly Dried Chilli
1 teaspoon Lightly Dried Coriander
5 6 spring onions, finely chopped
1 carrot, cut into matchsticks
2 teaspoons soy sauce
1/4 teaspoon sesame oil
1 lemon, zested and juiced
Method
Pre-heat oven to 190
Mix all the ingredients, except for the fish, in a bowl
Place the whole fish into a shallow baking tray and then cover with the mixture. 

Bake in oven of for about 18-25 minutes until the fish is cooked and fragrant 

Serve with steamed rice or steamed bok choy!
- See more at: http://www.gourmetgarden.com/en/recipe/149/oriental-chinese-whole-baked-snapper-ginger-and-chilli#sthash.lrTlqW45.dpuf