Mexican Beef Chilli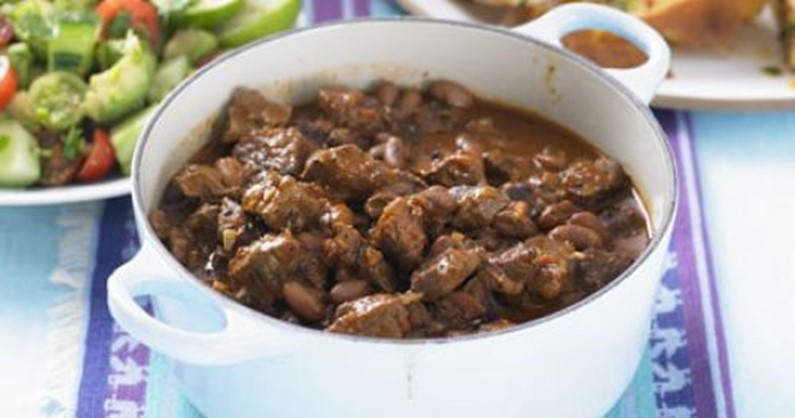 This is a warming crowd pleaser, combining a love of mexican, ginger and chilli all in one. 
Thanks to the BBC Good Food for the recipe - you can find more here http://www.bbcgoodfood.com/recipes/1853639/mexican-beef-chilli
Ingredients
up to 6 tbsp sunflower oil
4kg stewing beef
4 white onion, sliced
4 tbsp chipotle paste
8 garlic clove, crushed
50g fresh ginger, grated
2 tbsp ground ginger (Bunda Ginga of course, lessen this amount if you aren't a huge gingery fan)
1 tbsp ground cumin
2 tsp ground cinnamon
1 tbsp plain flour
2l beef stock
3 x 400g cans chopped tomatoes
1 tbsp dried oregano
5 x 400g cans pinto or kidney beans, drained
METHOD
Heat a small drizzle of the oil in an extra-large flameproof dish. Brown the meat in batches, adding a drop more oil, remove from the dish and set aside. Add 1 tbsp oil to the dish, then the onions, and cook for 7-10 mins or until caramelised.

Stir the chipotle paste, garlic, ginger, cumin, cinnamon and flour in with the onions and cook for a couple of mins. Gradually add the stock, stirring all the time, so it's fully mixed in with the other ingredients. Add the tomatoes and oregano, season and simmer for 10 mins.

Now tip in the beef, cover and simmer very gently for about 1 hr 45 mins until tender, removing the lid and adding the beans for the final 15 mins. If the sauce is thin, let it boil down for a further 5-10 mins with the lid off. Before serving, adjust the seasoning. Serve with the garlic bread and salsa.