Lemon Ginger Cheesecake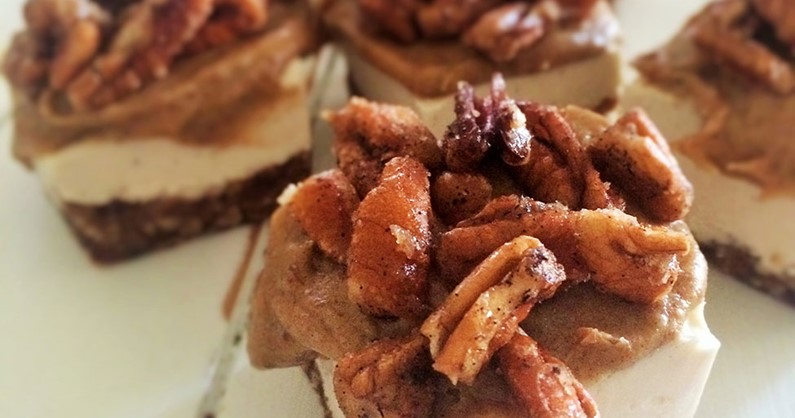 (raw, vegan,gf, df)
Ingredients
Base
1 cup pecans
1 cup dates, pitted
½ tsp vanilla powder
½ cm piece of fresh ginger, grated
pinch salt
Filling
2 cups cashews
1/3 cup maple syrup
½ cup coconut cream
juice and zest of 1 lemon
1cm piece of fresh ginger, grated
¼ cup coconut oil, melted
1 tsp vanilla powder
Caramel Topping
1 cup soft dates ( soak 30 min if not soft)
½ cup coconut oil, melted
¼ cup maple syrup
water or coconut milk if needed
½ tsp vanilla powder
salt to taste
Optional. Top with extra pecans
Directions
Blend all the base ingredients in a food processor till well combined. Press the mixture in the cake tin and set aside.
Place all the filling ingredients into a food processor and run until smooth and creamy. Pour the mixture over the base and place in the freezer to set.
You can make the caramel ready while waiting. Once the cake has set, Pour the caramel over and sprinkle on some crushed pecans. Pop the cake in the fridge. Slice when ready to serve.