Herb & ginger fish cakes with a beetroot relish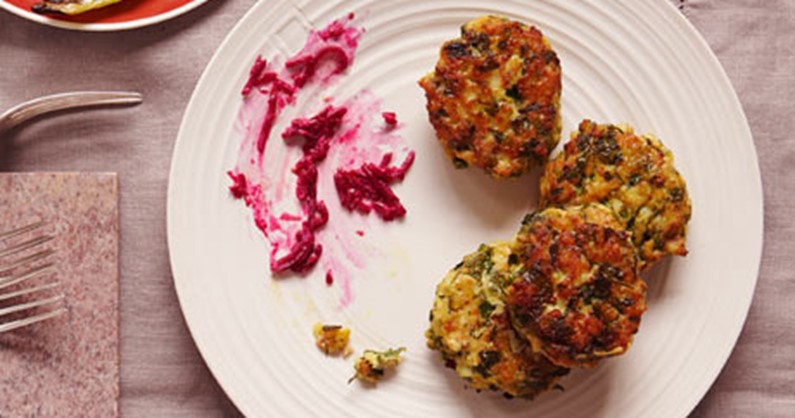 The ginger and abundant herbs and spices make these fishcakes sing. They really are overflowing with flavour, so all you need is a squeeze of lemon juice. However, the beet and horseradish sauce will add a sweetness and heat that complement the flavours well.
4 fillets firm white fish (about 720g), skinless and boneless 
25g dill, chopped
15g mint leaves, chopped
10g tarragon, chopped
25g ginger, peeled and finely grated
Zest of 1 lemon, grated
3 small garlic cloves, crushed
1 tsp ground cumin
½ tsp ground turmeric
2 eggs
30g breadcrumbs
8 mild, long green peppers
2 tsp sunflower oil
Salt and black pepper
(for more of a gingery zing, add 1 tsp of Bunda Ginga ground ginger to this mix)
For the relish
300g cooked beetroot, finely grated
50g soured cream
¼ tsp ground cumin
1 tbsp white wine vinegar
¾ tsp caster sugar
25g horseradish, freshly grated 
2 tbsp olive oil
Salt and black pepper
METHOD
1 Start with the relish. Place the beetroot in a colander for 30 minutes to let some of the juice drain or gently squeeze out some with your hands (gloves recommended).
2 Transfer to a bowl and add all the remaining ingredients, along with ½ tsp of salt and some black pepper. Mix well, taste to adjust the seasoning and set aside.
3 Preheat the oven to 200C/400F/gas mark 6. Slice the fish very finely then chop into tiny dice – just 1–2mm. Place in a bowl and add the fresh herbs, ginger, lemon zest, garlic, ground spices, eggs, breadcrumbs, 1½ tsp of salt and some black pepper. Mix well, separate the mixture into 12 golf-ball size pieces and form into round patties.
4 Place a heavy ovenproof iron or chargrill pan on a high heat. When the pan is very hot, add the peppers and grill for 15 minutes, turning once, until the skin is nicely charred and blistered. Remove from the pan and set aside.
5 Wipe the pan clean and add the sunflower oil. Sear the fishcakes for 4 minutes, turning once, then transfer the pan to the oven for 8 minutes, until the fishcakes are cooked through. Place 3 fishcakes on each plate, along with 2 peppers. Spoon the beetroot relish alongside and serve at once.
This receipe originally appeared at http://www.theguardian.com/lifeandstyle/2013/jan/26/10-best-ginger-recipes and was supplied to them by ottolenghi.co.uk