Delicious Anzac Biscuit with a twist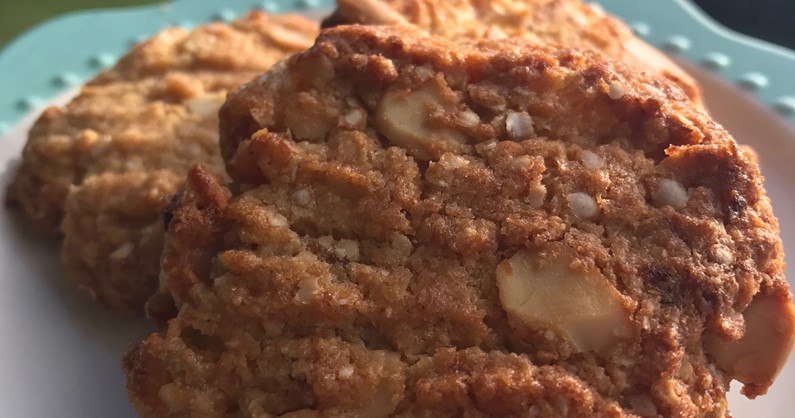 INGREDIENTS
125g butter, chopped
2 tablespoons golden syrup
1 cup self-raising flour - (gluten free SR flour can be substituted)
1 cup rolled oats or quinoa flakes
1 cup desiccated coconut
1/2 cup flaked almonds
3/4 cup firmly packed brown sugar
2 tablespoons hot water
100g ginger bites, chopped
125g dried apricots, diced
80g macadamia nuts, chopped
method
Step 1  Preheat oven to 180°C/160°C fan-forced. Line 2 baking trays with baking paper.
Step 2  Place butter and golden syrup in a small saucepan over medium heat. Cook, stirring, for 3 to 4 minutes, or until melted.
Step 3  Combine flour, quinoa flakes, coconut, almonds, ginger bites, dried apricots, macadamia nuts and sugar in a large bowl. Add butter mixture and hot water. Stir with a wooden spoon until combined. Set aside for 5 minutes.
Step 4  Roll level tablespoonfuls of mixture into balls. Place on trays, 4cm apart. Flatten slightly with a fork. Bake for 15 minutes, swapping trays halfway through cooking, or   until golden. Stand on trays for 5 minutes. Transfer to a wire rack to cool. Serve.