Bunda ginga wins as part of delicious produce awards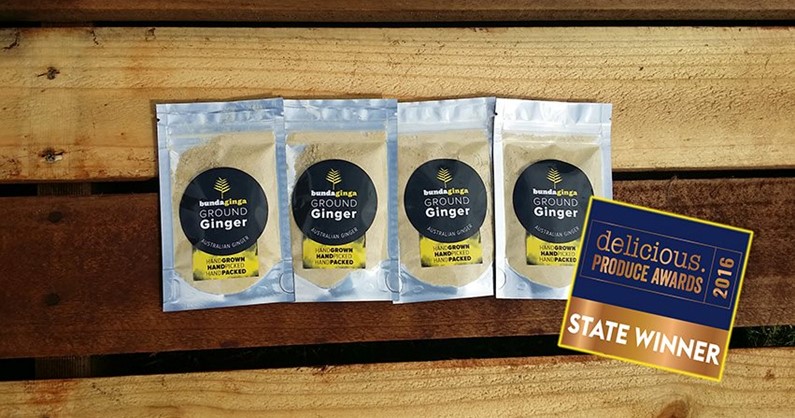 We won! Bunda Ginga ground ginger has got the nod of approval from the delicious produce awards state judges! 
This is huge news and we are over the moon to join such amazing producers from all over Queensland as part of the winners list.
We applied with both our pickled and ground ginger some time ago and have been waiting to see how our products went with the judges.
Our ground ginger now goes onto judging with 39 of the countries finest foodies with the announcement to be made on 12 September so fingers crossed!
You can read the full press release we put out about the win here:
BUNDA GINGA STATE WINNER IN NATIONAL GOURMET FOOD COMPETITION
Ground ginger hand grown, hand picked and hand packed in the rich red soil of the Hummock in Bundaberg has got the attention of State judges as part of the 2016 delicious. awards competition with Bunda Ginga today announced as a Queensland winner.
After a rigorous application and screening process, Bunda Ginga got the news their ground ginger has made it through to national judging to be held later this year with the tick of approval coming from Queensland food royalty Jake Nicolson (Blackbird Bar & Grill), David Rayner (Thomas Corner Eatery) and Ryan Squires (Esquire).
Fourth generation farmer Anthony Rehbein and his wife Kate couldn't be happier.
"To be recognised in a leading gourmet food competition of this standard in our early stages of product diversification, it is very encouraging that we are moving in the right ways and creating a product that hopefully many people will grow to appreciate," Mr Rehbein said.
"As a fourth generation farmer we have only ever grown fresh ginger for wholesale distribution, but a year ago began experimenting with pickled and ground ginger to add value to our product range," he said. 
"The response on a local level has been amazing and this is a wonderful boost for our region's culinary offerings, but also for us to know we are creating the best product that is recognised by gourmet chefs and foodies," Mr Rehbein said.
Bunda Ginga's ground ginger has joined the likes of Cooloola Berries (Strawberries Inca In Oz), Aji Amarillo (Yellow Peruvian Chilli), LiraH (Grand Reserve Cabernet Vinegar), Pretty Produce (leaf mixes and edible flowers) and The Lime Caviar Company (fresh and frozen finger limes) as State Finalists in the "From the Paddock" category.
Bunda Ginga's product will now be blind-tasted by a national panel of 39 judges who are Australian food leaders, who decide the overall category winners to be revealed at a special event in Sydney on September 12, so watch this space.
Bunda Ginga products can be purchased online (bundaginga.com.au) or at several local stockists in Bundaberg such as Barritts Butchers, Bargara Meats, Learmonth's Foodworks, Grunskes by the River Seafood and Takeaway and Nana's Pantry.